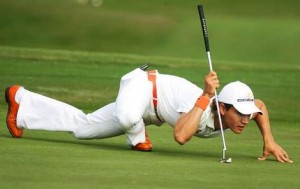 Do you have a Pre-Shot routine?  If so, do you PRACTICE it?  There are so many people that say they have a pre-shot routine but then can't tell you what it is or often deviate from their routine during the round.  A solid and consistent pre-shot routine is used by the best players in the world.  They do not deviate…not ever.
Perhaps the best example and model of a consistent pre-shot routine is Annika Sorenstam.  Annika's routine takes exactly 24 seconds from the time she begins her routine until the conclusion of her follow through.  Her pre-shot routine has been studied by watching hours upon hours of video throughout her career and it has been concluded that her routine has remained within 1 second of the 24 seconds it takes to execute throughout her entire 14 years of professional golf. Pretty amazing!
Here is a very similar routine to Annika's to try within your own game:
1.)    In your mind, imagine a 6ft square box.  Diagram below.
2.)    In your preparation area you will begin thinking about your shot considerations: lie of the ball, distance to target, wind direction and force, choice of shot, and club selection.  Finally, you will visualize the shot starting on the intended line and finishing at your target.  Make a swing or two focusing on the feeling that will lead to the desired shot.
3.)    After you have visualized and felt the swing to produce your desired shot, it is time to move into the playing box.  You are in the playing box and there is nothing to do but execute the shot.  Play the shot with confidence and a clear mind!  Remember, once you are in the playing box, you are fully committed to that shot.
This is an example of a very simple pre-shot routine to implement into your game, now it's time to begin practicing! Instead of hitting a large bucket of 100 golf balls in 30 minutes, try hitting a small bucket of 45 balls for 1 hour, taking time to practice your new pre-shot routine on every shot.  I expect that using this new routine in your game will lead to lower scores and more consistent golf!
Written By: John Kolls, PGA Head Professional | Duke University Golf Club