Sadler Stowe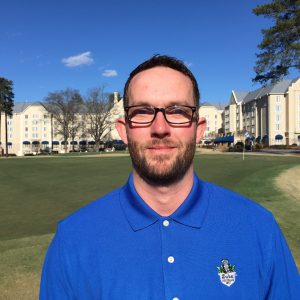 Sadler joined Duke University Golf Club in July 2015 as Senior Assistant Superintendent. Sadler grew up and learned to love the game of golf on the golf course in Kings Mountain, North Carolina. His passion for the game and enjoyment of the outdoors made choosing a college major that would lead to a career in golf course maintenance an easy decision.
Sadler graduated from North Carolina State University where he received a B.S. in Turfgrass Management in 2009. While in school, he worked as an intern during the construction and grow-in of The Club at Twelve Oaks, a Jack Nicklaus design, in Holly Springs, North Carolina. After proving himself as a valuable part of the team at 12 Oaks he was promoted to Assistant Superintendent where he remained for a total of 7 years. When a position opened at Crooked Creek Golf Club in neighboring Fuquay-Varina, Sadler moved up to Head Golf Course Superintendent where he worked to improve course conditions for 12 months before joining the agronomy department at Duke University Golf Club.
Sadler is responsible for scheduling and implementing daily set-up and maintenance needs, as well as having input when developing long-range goals for the Duke University Golf Club. Sadler takes the Club's moniker, 'The Getting Better Every Day Duke University Golf Club', to heart and strives to help make that moniker a reality.
Sadler resides in Holly Springs with his wife, Katherine. When away from work, he enjoys playing golf, hiking, hunting, attending local sporting events and most importantly spending time with family.