Chad Gibbs, PGA Certified Professional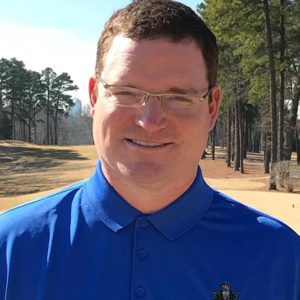 Chad Gibbs served as the Senior Golf Instructor at the Greg Norman Champions Golf Academy in North Myrtle Beach, SC for six years. He was responsible for guiding competitive junior golfers and fine-tuning mini tour players for substantial periods of time.  After moving to the Raleigh-Durham Triangle area in 2014, Chad became the Director of Instruction at the Hasentree Golf Academy. Over the past 15 plus years, Chad has fine-tuned his skills as a golf instructor and developed into one of the best teachers in the Triangle area. Chad's desire to help golfers of all skill levels reach their goals is what has lead to his success as a golf instructor. His notable accomplishments include assisting junior golfers to countless titles while preparing to play collegiately and most recently, earning Certified Professional in (Teaching and Coaching) Professional Golfers Association.
Chad has an absolute love of learning and an interest in improving performance and overall fun on the golf course. He is an avid learner, especially in the fields of biomechanics, mindset, and strategic efficiency. Chad has certifications in: BioSwing Dynamics, TPI(Titleist Performance Institute) Level 2, and Forces and Motions by Sasho Mackenzie and Dr. Phil Cheetham. Chad has many influential friends and mentors that have helped shape his career in golf. Some of his closest mentors include Duke Director of Golf and PGA Master Professional, Ed Ibarguen; Sports Psychologist; Dr. Bhrett McCabe; PGA Head Professional Phil Leddy; and Top 100 Instructor, Joe Plecker.
Most of his students are fed up with tips from friends or family, articles from golf magazines, or endless "gems" on YouTube or Instagram.  His main goal is to help you properly interpret the golf lessons that you have taken in the past or the current explosion of information that you are encountering now.  Chad's philosophy comes from years of playing sports and over 15 years of teaching golf at a high level. He believes that each golfer can channel their inner athlete and their former experiences to enjoy and improve their game. Every lesson is personalized to enhance your strengths and minimize your weaknesses.
Chad hails from Cleveland, OH and is most proud of being a husband to Durham native, Leah, and father to his daughters Casey and Alissa.